Pool Table Moves in Lake Tahoe
When it comes to pool table moves you should consider the risks of having your billiard table moved by anyone other than a professional. Moving your table with the Pool Table Movers SOLO® in South Lake Tahoe entitles you to one-year service protection issued in a written guarantee and backed by a national organization.
Call the number below to get your free quote and schedule your move now!
Pool table moves with our nationally backed company are a breeze!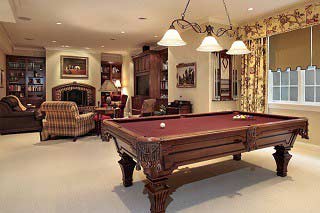 We have decades of experience servicing and moving pool tables. As a result, we have seen everything and we are qualified in all types of pool table repair.
The Pool Table Installers SOLO® has built a solid reputation based on our customers' satisfaction.
Professional Pool Table Moves from start to finish in Lake Tahoe
Complete pool table moves have to be carried out in a methodical manner which is entailed in three phases. We professionally tear down your pool table, load and safely move it to the new home.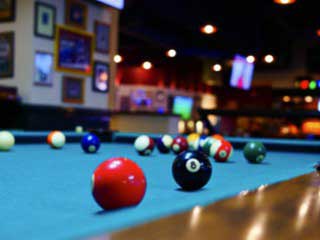 Once at the new location, we will carry out the pool table setup with precise leveling.
Rest assured, the frame and playing surface of your pool table will be perfectly level thus allowing you to enjoy an optimum playing experience.
Pool Table Repair Services Should Be Performed By Experts!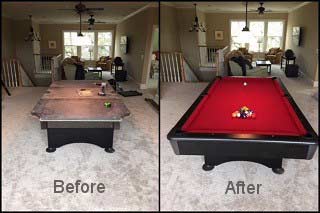 We take pride in the workmanship we provide and we guarantee our services and materials in writing by a national organization. Additionally, we are the only company in the area that has the backing of a national organization. that warrants both, the workmanship and cloth we provide for the pool table refelting service we perform.
Pool table repairs should always be performed by professionals.
The reason for this is that when you notice a repair that needs attention there is usually one or two more repairs that may only be noticed by experienced technicians.
We strongly recommend that you contact our professionals. Pool table Movers SOLO® in Lake Tahoe are Members of the American Billiard Installers Association, we are a recognized business in our industry. With this in mind, choosing to go with a low-priced service provider could be very costly in the end.
Pool table repair, installations, moves and refelting are best left in the hands of professionals. The Pool Table Movers SOLO® in Lake Tahoe uses the right tools to level the pool table after moving it.
We recommend you check out the pool table sizes and room dimensions guide we put together so that you can make an informed decision regarding the size of a pool table to choose from.
Lake Tahoe Pool Table Movers provides moving services for most pool tables. We move from home to home, business to business or garage to garage for storage. Also, we offer professional pool table disassembly and assembly on separate appointments, installation of brand new billiard tables and major pool table repair services such as cushion rubber replacement.
Pricing your pool table repair or moving service.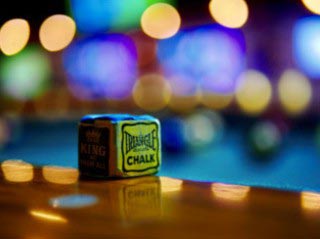 Pricing depends on the dimensions of the pool table, the type of move, the circumstances surrounding the move or the type of pool table repair. We may charge extra for stairs when moving a 3 piece slate pool table. However, in some cases, we will not move a 1-piece slate table.
The reason for this is that moving one of these tables poses a high risk of possible damage and/or injury. Consequently, we will not move it because of liability issues.
We are residential and business pool table movers. Pool table moves in businesses may incur extra charges in the event we encounter complicated moves with elevators or have parking issues for your job.
Let Lake Tahoe Pool Table Movers take care of all your pool table needs. Simply call the number below and schedule your pool table move.